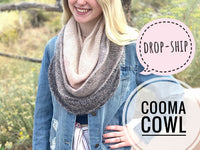 Drop-Ship Emma's Yarn Cooma Cowl Kits!
The Cooma cowl is fast and fun to knit and also a bit addictive. It is our all-time best selling kit and makes a great gift for knit-worthy friends and family!
Purchase Here:
Drop-Ship Effuary Cowl Kit
We have 8 fabulous kits for Casapinka's new cowl + mini cowl in Emma's Yarn Bodacious Bulky! All kits will be drop shipped from Emma's Yarn and the shipping cost has been included in the kit price.
Drop-Ship Effuary Cowl Kit
Drop-Ship Emma's Yarn Theme Packs
Emma's Yarn picked the name Theme Packs because  the colors in the pack all suite a "theme" rather than perfectly fading or highly contrasting. 

Theme Packs are available in Practically Perfect Smalls, Super Silky Smalls, and Simply Spectacular DK Smalls.
Drop-Ship Emma's Yarn Theme Packs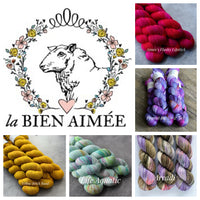 La Bien Aimée
We're so excited to be a new La Bien Aimée stockist! The gorgeous colorways and depth of colors in her yarns are stunning. Our first base is Merino Super Sock - 467 yards of soft, smooth and sturdy sock yarn that will be equally great for socks, garments, and accessories. 
La Bien Aimée Merino Super Sock
Hedgehog Fibres Tweedy!!!
It's GORGEOUS! 252 yards of soft Falkland Merino, Recycled Wool and HHF Thread Waste (pops of color) - in Natural and Noir!
Purchase here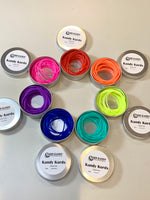 Kandy Kords
Hollow silicone tubes to use as stitch holders.
Simply press the end of the tube on to the tip of the needle and gently slip the stitches to the cable for hold, and vice versa for placing the stitches back on to the needles.
These can be used for putting sleeves on hold or for the body when trying on a garment, or when you need a needle for another project (like right now).
Sold as a set of three cables (1 x 2 yards (72 inches), 2 x 1 yard (36 inches) in a metal container.
Purchase Here
Gift Cards!
Virtual Gift Cards are perfect for when you don't know exactly what they want!
Purchase here